building healthier and happier workplaces
Decentralized hiring is becoming a powerful tool to conduct more tailored and human-centered recruitment processes.
FIND THE BEST TALENTS
We optimize your recruiting proccess.
Or let us do it for you
We find the best candidates for your business.
"Human-centered organizations rediscovered that the perspectives of all the human beings involved in a process provide a broader outlook. In most companies, managers, employees, and customers work together in decision-making to design the best possible solution to the problems they handle."
Decentralized and centralized organizations
In the last decade, more and more organizations have changed their management style to cope with innovation and continuously evolving demands. Human Resources management is no exception to this rule.
Apart from talent acquisition, other decentralized staffing functions nurturing from this approach are career development, employer branding, promotions, transfers, and compensations.
Knowing the structure of an organization is essential to understand the decision-making process and the leadership style.
This article will analyze the advantages and disadvantages of centralized and decentralized staffing models and share the results and conclusions drawn from our own experience.
Centralized staffing models
Those organizations where the top executive level handles all the decisions and processes tend to centralize staffing.
By aligning these functions with the chain of command and procedures, the executive managers ensure that all the company collaborators follow the organization's policies in every step of the hierarchical scale.
Human Resources management is responsible for all the decisions pertaining to career development, training, transfer, promotions, and compensation, according to the company's headcount and Budget plans.
As for centralized hiring, the Human Resources or Talent acquisition leader is in charge of analyzing each job position, description, and requirements.
Also, following the procedures and established practices for providing the necessary talent.
Decentralized staffing models
Other organizations -also known as horizontal- lack the pyramidal structure we usually see in more traditional, centralized management models.
This type of organization defines the functions according to the roles people perform and not based on hierarchies. Therefore, middle management levels are almost nonexistent, and more often than not, we see large teams reporting to one person.
The typical example of such an approach is start-ups. The horizontal scheme enhances collaboration and commitment within a team and ensures moving fast forward in product or service delivery.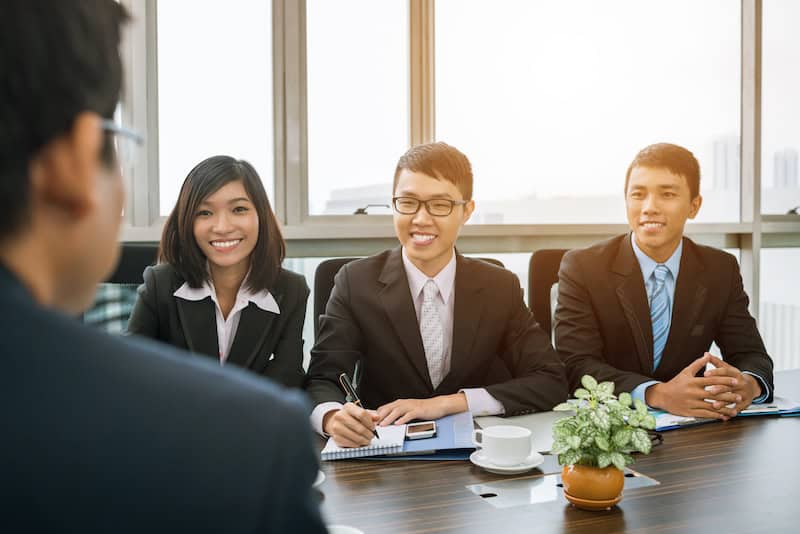 Why Schmitman chooses to be a decentralized staffing
Advantages and disadvantages of decentralization
At Schmitman, we agree on goals and craft strategies jointly. Yet, our collaborators do not have to ask for permission on their day-to-day decisions. Our people feel encouraged to decide which steps to take to achieve the desired outcomes. As an advantage, decentralization tends to promote creativity, diversity, and management development. The workplace becomes a happier place where each individual is valuable, and contributions are cherished.
Our experience proves that enjoying a high grade of autonomy in our day-to-day decisions is only possible when promoting collaboration in a double-way. Decentralization staffing needs to rely on strong foundations: clarity about the objectives, empathy, trust, respect, and the willingness to work jointly. On the other hand, a leadership style that ensures support and guidance is crucial to bring out every team member's best performance.
The truth is that the disadvantages of decentralization often show up when leadership and collaborators fail to create the virtuous circle described before. It is the lack of coordination that gives way to anarchy. – resulting in ineffective and costly operations. In any case, the risk of adopting decentralization is not finding collaborators who fit in the organization's culture.
Internal vs. external recruiting
At Schmitman Human Resources, we deliver internal and external recruiting services.
The very same approach we have within our team applies to all our staffing projects. Whether we perform RPO's, recruiting, or consulting services, we prioritize human traits before moving on to technical skills. For us, healthy and transparent teams are only possible when each individual's culture is aligned with the organization's and stands up for respect, equality, empathy, and teamwork.
Internal recruiting
becoming our clients' Talent Acquisition staff
Through the years, we have built strong bonds with some companies. In our Recruitment Process Outsourcing (RPO), we become the recruitment staff of our clients.
Such is the case of Genium, a premium software engineering consulting firm that connects innovative companies with world-class developers, engineers, and security experts.
The company's headquarters are in Silicon Valley, and it owns other offices in Ukraine and Argentina.
In 2018, this software firm hired us to onboard two additional employees, full-stack developers expert in Python and Django.
The company was expanding in the region, and soon we added guidelines to improve the employer brand among our services.
We also worked on defining workplace dynamics. Aligning with Genium's values and holding an assertive communication have enabled successful recruiting processes and long-lasting business relations.
External recruiting
Design a tailored process according to specific needs and timelines.
An experience worth mentioning is the case of Despegar, the leading travel company in Latin America, with more than 18 million customers.
Three years ago, our company was hired to select 40 employees between March and November. Schmitman's staff – at that time, four people: 1 Tech Leader and 3 Tech recruiters – had to work on six different profiles to fulfill 40 open positions, all in technology.
Initially, our job was to give support to the Human Resources area of Despegar. Soon our range of services widened: we collaborated in the rethinking of all the recruitment process, supported the company on its employer brand building, and sourced and selected the people for the open positions.
We worked with an assembled team formed by 16 people. To enhance the employer's brand, we designed a campaign: its claim was "Naciste para Despegar" (in Spanish, You were born to take off). In this campaign, we played with the ambiguity created by the brand and its multiple positive meanings: outstanding performance, career development, positive change, among others. The ad campaign was a resounding success that impacted more than 50,000 IT professionals and the perfect prelude before the company went for an IPO.
decentralized recruiting conclusion
Decentralized staffing is the natural outcome of a more holistic vision of the work, aimed to build more productive and happier workplaces.
Decentralized recruitment can also provide more in-depth and tailored hiring processes rooted in the company's culture, values, and dynamics.
If you require a full-cycle service, a Talent Acquisition Consultant will assist you in the hiring process with a long-term strategy in place.
+54 911 6845 5441
Nuñez 2820. 1st F.